216 Drive Axle
The NEWAGE 216 double reduction rigid drive axle with fully floating axle shafts has been designed & developed to withstand the demanding range of applications encountered within the ground support equipment industry.
Axle Ratios Available
12.3:1 / 14.78:1

Nominal Axle Load Rating
7,000lbs (3,200 Kg) based on 64 in (1,625.6 mm) wheel track
Brakes
Single floating calipers with bolt on rotors.
Dry Weight
Approximately 397lbs (180Kg)

Park Brake
Optional (disc mounted)
Wheel Fixings
8 studs: 9/16 x 18 UNF – 3A on 6.5in (165.1 mm) PCD & 4.822in (122.5mm) wheel spigot diameter.

Standard Mountings
Mounting Centers – 39.73in (1009.65mm) with 6.25in (15.9mm) center hole & across 3.625in (92.1mm) x 3in (76.2mm) axial recess centers with a recess diameter of 0.59in (15mm) for 'U' bolt mountings.
Input Flange
Input companion flange for HS1410 Strap Style Half Round End Yoke.
Differential
Limited Slip Differential (optional open differential)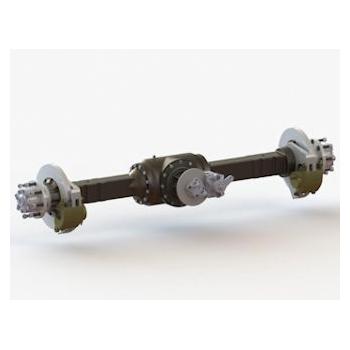 Downloads: