PRM marine transmissions have established a world-wide reputation for quality, reliability and in-service performance, making them the ideal choice for pleasure, workboat and fishing vessel applications.
All gearbox components are designed and manufactured for maximum reliability over an extended service life, so when correctly matched to engine and propeller, PRM gearboxes will provide trouble free operation for many years.
All gearboxes are supplied with a no quibble two year warranty which demonstrates the quality of our products.
Purpose designed for marine applications all standard version PRM gearboxes have output shafts vertically offset from the crankshaft centre line. However to cater for the installation demands of the widest range of hulls the PRM260C and PRM750C are available with an in-line configuration, while 8 degree down angle options are offered on the PRM750 and 10 degree on the PRM1000.
A wide range of mounting adapters are available to ensure PRM gearboxes to be fitted to most popular engine models.
All PRM gearboxes allow easy access to major components and service items such as pumps, and hydraulic control valves are conveniently mounted externally. Routine maintenance is limited to checking operating temperature and pressure and inspection of seals and gaskets.
PRM Marine Gearbox Nominal Power Ratings: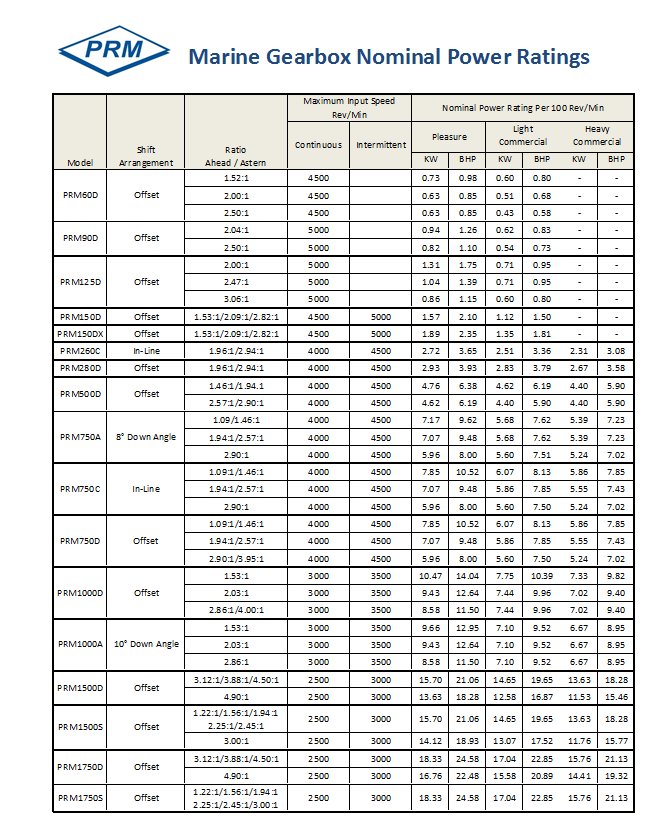 PRM 150DX - under development