515 Axle
The NEWAGE 515 planetary double reduction rigid drive axle has been designed & developed to withstand the demanding range of applications encountered within the ground support equipment industry. The 515 can be configured to be a drop-in replacement for many existing axles in most models of baggage tractors.
Axle Ratios Available
9.1:1 / 12.3:1 / 14.8:1 / 15.8:1

Nominal Axle Load Rating
6,600lbs (3,000 Kg) based on 45in (1,219mm) wheel track
Typical Drawbar Pull
6,000lbs (26,700 N)
Track Widths
41in (1041mm)
45in (1143mm)
52in (1321mm)
56in (1422mm)
Brakes
Dual floating calipers with bolt on rotors

Dry Weight
Approximately 550Ibs (250 Kg)
Park Brake
Optional (disc mounted)
Wheel Fixings
8 studs: 9/16 x 18 UNF – 3A on 6.5in PCD (165.1 mm)
Standard Mountings
27.15in (689mm) mounting centers, across 6.25in (158.75mm) with 2 x 0.811in (20.6mm) diameter holes. Mounting pad also includes 4 x 0.67in (17mm) diameter holes.
(
Optional mountings & track widths are available upon request.)
Input Flange
HS1310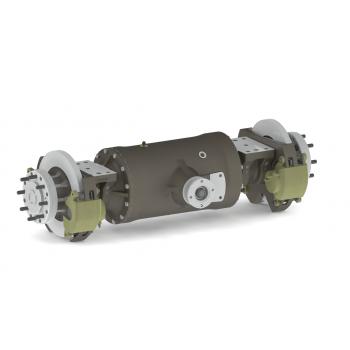 Downloads: