GSE Expo New Products
12th September 2018
Newage Axles is proudly presenting their brand new 216 range of belt loader drive and dead steer axles at this year's International Airport GSE Expo. This range represents the company's latest expansion of products specifically developed for the GSE market.

The 216 drive axle has a standard ratio of 14.7:1 with a limited slip diff and inboard planetary sets enabling stock wheels to be used.

The 216 dead steer axle uses strong tapered roller trunnion bearings meaning no more king pin bushes to wear out. As standard, a robust double acting through rod hydraulic steer cylinder is used giving left and right turns the same bias. Modern heavy duty off-road track rods ensure long life.

The same GM brakes are on the front and rear with all the hub components being common across both axles.

Not one weld will be found on these Newage axles. Proudly, Newage use all SG cast iron components in the design and construction of all its production axle products. This ensures the high strength necessary to endure life on the ramp.

The company expects this belt loader range of axles to be a success following an endurance test currently underway, with a big announcement expected at the show.

The successful 512 and 515 drive axles are now common in the U.S. GSE market being standard fit on TUG MA and M1a, NMC M30/60, Taylor Dunn TC30/60, Charlatte CT5G and Lift-A-Loft baggage tractors. The larger 612 and 613 drive axles are also common being now standard fit on TUG MT and MR, NMC M100/120 and Taylor Dunn TC80/120.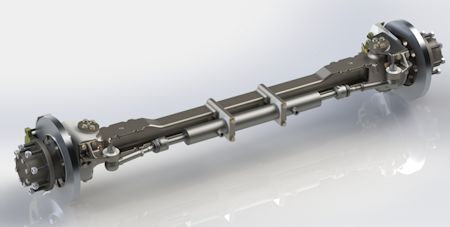 < Back to the main news page