612 Axle
The NEWAGE 612 planetary double reduction rigid drive axle has been designed & developed to withstand the demanding range of applications encountered within the ground support equipment industry. The 612 can be configured to be a drop-in replacement for many existing axles in most models of baggage tractors.
13.2:1 / 15.8:1 / 19.7:1
Maximum Load Rating:
11,000lbs (5000Kg) based on 48in (1219mm) wheel track
Typical Drawbar Pull:
12,000lbs (53,400N)
Track Width
Standard 48in (1219.2mm). Variations available upon request.
Brakes:
Dual Caliper hydraulic disc brakes
Dry Weight:
Approximately 727lb (330Kg)
Park Brake:
Optional (disc mounted)
Wheel fixings:
Eight M20 x 1.5 studs on 275mm (10.83in) PCD
or
Eight 9/16 x 18 UNF - 3A studs on 165.1mm (6.5in) PCD
Standard Mountings:
Numerous available between 23.5in (597mm) and 28in (711mm)
Input Flange:
HS1410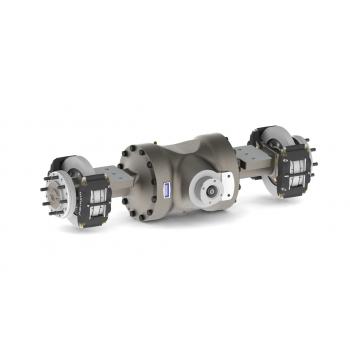 Downloads: